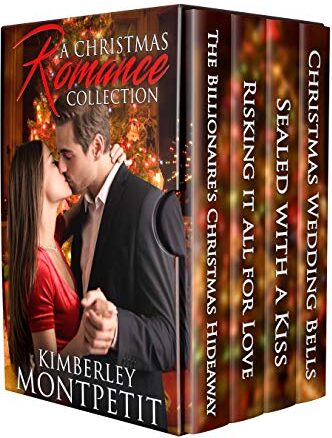 September 10, 2019
Spellbound Books

A Very Romantic Christmas Collection
Fall in love this Christmas Season! Four sweet romance novels, including a Christmas Wedding Bells novella with lots of surprises!
Book 1: THE BILLIONAIRE CHRISTMAS HIDEAWAY
Reve Chatham is a big-city corporate hot-shot who's lucky in business, but unlucky in love. Logan Redmond is a handsome small-town hero who's all heart but has a secret. Can he melt her icy exterior, and restore her faith in a happily-ever-after—or is she forever doomed to spend Christmas alone?
Book 2: RISKING IT ALL FOR LOVE
A feisty ballerina with a broken heart. A minister-in-training whose faith can work miracles. Can two strong-willed people find their match made in heaven? James can not only dish back Jessica's finely-tuned sarcasm but understands grief all too well, turning Jessica's world upside down. Can Jessica forgive herself for that terrible, fateful night, and is she willing to take another risk on love?
Book 3: SEALED WITH A KISS
When April Murphy, a war widow with a young daughter, shows up in Snow Valley, Pastor James reluctantly begins to wonder if he and ballerina Jessica are really meant to be. April would make the perfect pastor's wife and he'd have an instant family and the stability he craves. But he can't get the spitfire Jessica out of his mind and when she returns to Snow Valley to accept an inheritance, her male ballet partner in tow, their love takes on a new edge.
Book 4: CHRISTMAS WEDDING BELLS
The exciting conclusion to the love story of Jessica and James! Will their Christmas wedding finally happen--or will disaster strike at the last minute when Jessica's younger brother goes missing along with James' sister?
Buy Now