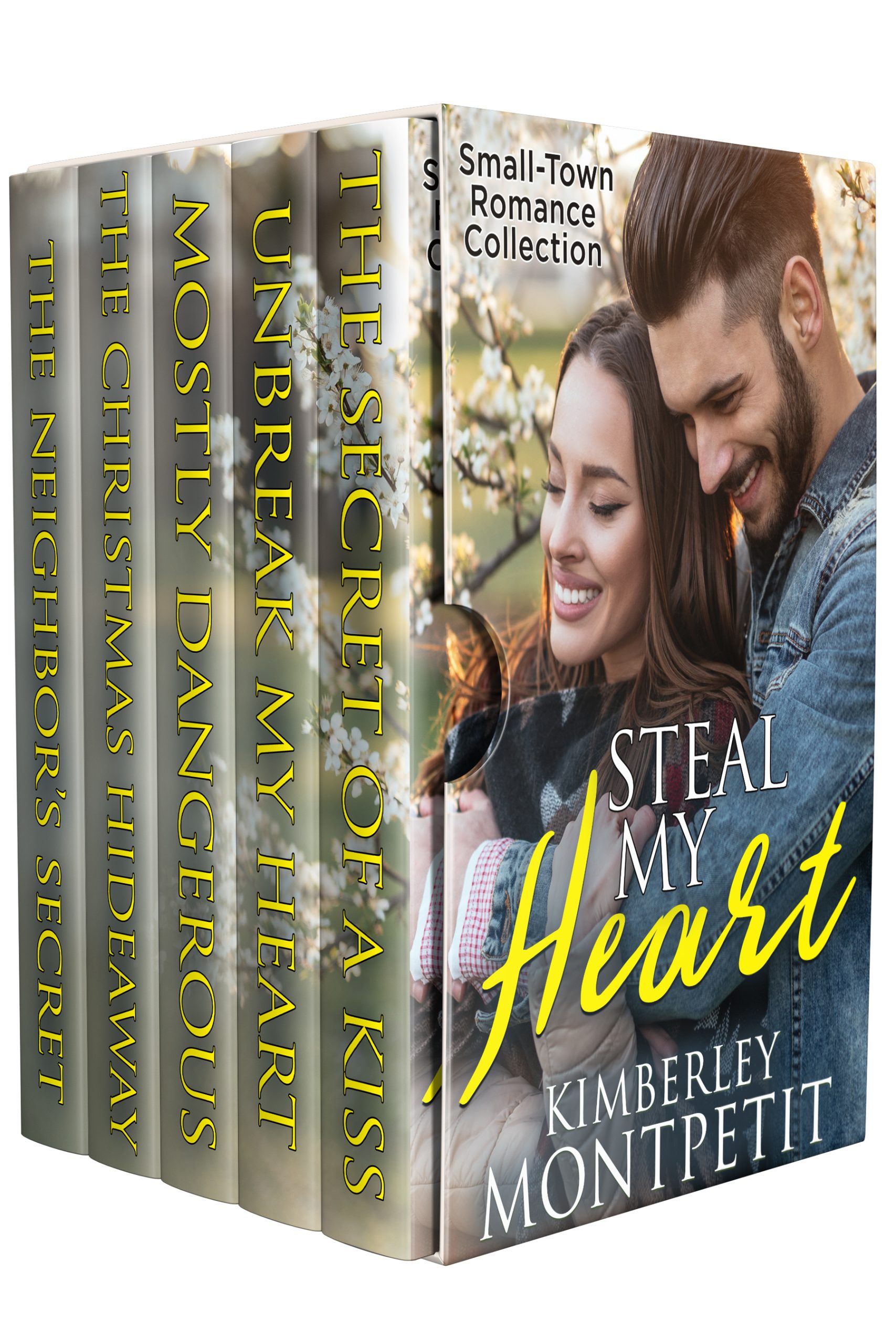 April 29, 2021

Steal My Heart: Small-Town Romance Collection
Picturesque small towns, fireworks and picnics in the park, hometown bakeries, and people who instantly feel like your best friend. These five small-town novels will keep you reading and your heart fluttering all night long!
THE SECRET OF A KISS:
A lonely stretch of highway, a handsome stranger, and a long-kept secret that could wreck everything. Linden Adair is a talented makeup artist on the New York Broadway show, Phantom of the Opera, creating the hideous scar for the actor who plays the phantom every night. But nobody knows the deep scars Linden carries after the divorce from her husband, Mark Denly—who is the famous director of Phantom.
UNBREAK MY HEART:
Caitlin Webster suffers the worst New Years' Eve of her life when she discovers her fiancé with his old girlfriend. Soon, Caitlin finds herself in the snowy wilds of Montana almost run over by a red monster truck careening across the icy roads. It's not the most fortuitous of encounters with contractor Quentin Hudson who's doing a remodel for her aunt's Snow Valley Bed & Breakfast and Caitlin avoids the man like the plague despite the fireworks that erupt between them.
MOSTLY DANGEROUS:
Sofia Ambrose is on the brink of a new career, far from the dark secrets of her family's historic Texas estate, when she and her five sisters are summoned home for the reading of her grandmother's will—a grandmother who, at 88-years-old, is still alive and kicking. But the truth is more shocking than she could have imagined. Her grandmother has turned Ambrose Estate over to Sofia, and she must give up every hope of a regular life in order to run it and protect her family's legacy. When several dangerous oil fires break out and she meets firefighter Gavin Spencer, Sofia's life will never be the same again. If you like romantic chemistry and moody mysteries, then you'll adore this sweet and smoldering love story.
THE CHRISTMAS HIDEAWAY:
My Christmas Plan This Year: Option 1: Spend Christmas with nosy family members picking at my personal life...or lack thereof. No thank you! Option 2: Spend Christmas in Los Angeles all alone. Not a chance! Option 3: A small-town cozy holiday getaway. Yes please!! One small problem: Logan Redmond.
Revé Chatham sure knows how to pick 'em. After two failed engagements, she thinks she's found "the one", only to have it end—in a very public disaster just before the holidays. All she wants is a man who truly loves her and a kiss that takes her breath away.
THE NEIGHBOR'S SECRET:
Ethan Smith: Friend? Yes. Foe? Probably. Enemy? Maybe. Lover? Hopefully! After being left at the altar on her wedding day, Allie returns to her quirky hometown by the ocean, but her nerves are shattered by an intruder on the very first night. The intruder is devastatingly handsome, but she soon learns that he's using a fake name and has old ties to small-town Heartland Cove that will turn her entire life upside down, especially when her ex-fiancé shows up and wants her back.
Buy Now