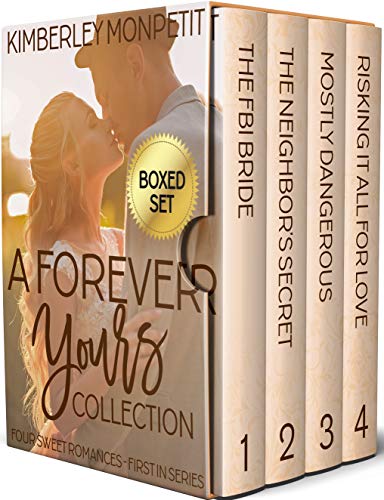 February 1, 2020
Spellbound Books

Forever Yours Romance Collection
Don't wait any longer to try bestselling author, Kimberley Montpetit's, romantic novels! Read the first FOUR titles in her FOUR different series - sweet and swoony with a few doses of suspense all rolled into one terrific volume! You'll be up all night - and wanting the rest of each series!
THE FBI BRIDE, Book 1 in the Undercover Bridesmaid Romance Series
A forbidden FBI romance, a wedding that never happens, and the tragedy that changes them forever. Can Chloe and Liam overcome the terrible secrets that keep them apart, or will their love be destroyed forever during the night of the bombing raid? THE FBI BRIDE is full of action, danger, and a forbidden love story that will keep you on the edge of your seat!
THE NEIGHBOR'S SECRET: Book 1 in the Secret Billionaire Romance Series
After being left at the altar on her wedding day, big city financier Allie Strickland returns to her quirky hometown to try to get over her fiancé's betrayal, but on the very first night, Allie's nerves are shattered when an unexpected intruder breaks into the house while she's taking a bubble bath. The intruder is devastatingly handsome, but she soon learns that he's using a fake name and has old ties to Heartland Cove. Is Ethan Smith friend or foe? Enemy or lover?
MOSTLY DANGEROUS, Book 1 in the Women of Ambrose Estate Series
A hall of secrets. A deadly curse. Can Sofia and firefighter Gavin's love overcome her dark legacy, or is it doomed from the start? If you like enchanting chemistry, intriguing legacies, and moody mysteries, then you'll adore this sweet and smoldering love story.
RISKING IT ALL FOR LOVE, Book 1 in the Small-Town Snow Valley Series
Jessica is a feisty ballerina with a broken heart. James is a minister-in-training whose faith can work miracles. Can two strong-willed people find true love and a match made in heaven? Or will Jessica be unable to forgive herself for that terrible, fateful night three years ago . . . and throw away her chance to take another risk on love?
Grab this wonderful collection of stand-alone romances and fight for passion and true love today!
Buy Now