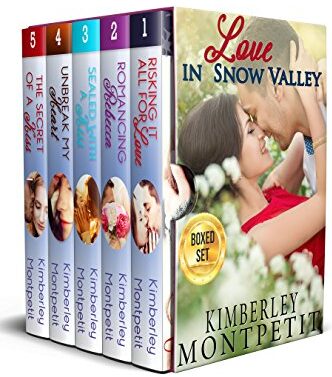 June 13, 2018
Spellbound Books

Love in Snow Valley: The Complete Collection
Take a trip to magical Snow Valley and lose yourself in romance, adventure, and Happily Ever After. You'll never want to go home again!
Book 1: RISKING IT ALL FOR LOVE
A feisty ballerina with a broken heart. A minister-in-training whose faith can work miracles. Can two strong-willed people find their match made in heaven? James can not only dish back Jessica's finely tuned sarcasm but understands grief all too well, turning Jessica's world upside down. Can Jessica forgive herself for that terrible, fateful night, and is she willing to take another risk on love?
Book 2: ROMANCING REBECCA
When a team of fire-fighters set up camp on the lawns of the Starry Skies Bed & Breakfast during a forest fire, the devastatingly handsome Captain Wade catches Rebecca's eye. Navigating firefighters and first dates, all while trying to write her first Jane Austen-like novel, turns out to be trickier than she imagined, but Becca soon learns that there's more to a happily-ever-after than a flirty fireman with muscles the size of the Montana hills.
Book 3: SEALED WITH A KISS
When April Murphy, a war widow with a young daughter, shows up in Snow Valley, Pastor James reluctantly begins to wonder if he and ballerina Jessica are really meant to be. April would make the perfect pastor's wife and he'd have an instant family and the stability he craves. But he can't get the spitfire Jessica out of his mind and when she returns to Snow Valley to accept an inheritance, her male ballet partner in tow, their love takes on a new edge. Includes a brand-new Bonus Novella!
Book 4: UNBREAK MY HEART
Can a fortune teller lead Caitlin to the man of her dreams or is Madame Tallulah's prediction for a Happily Ever After just smoke and mirrors? Midwife Caitlin Webster suffers the worst New Year's of her life when she discovers her fiancé with his old girlfriend. Soon, she finds herself in the snowy wilds of Montana almost run over by a red monster truck careening across the icy roads when she goes to help her cousin with a high-risk pregnancy. Is Quentin Hudson just a burly Montana dude—all brawn and no brains—or is there more to this enigmatic man and his monster truck on the night disaster strikes and Caitlin must save the life of Rayna and her unborn child?
Book 5: THE SECRET OF A KISS
A lonely stretch of highway, a handsome stranger, and a long-kept secret that could wreck everything . . . Linden Adair is a makeup artist on the Broadway show, Phantom of the Opera, creating the hideous scar for the actor who plays the phantom every night. But nobody knows the deep scars Linden carries after the divorce from her husband, Mark Denly--the famous director of Phantom. Late one night in the middle of nowhere, a gorgeous stranger with a tow truck rescues Linden and her smashed vehicle, but when she catches sight of him in the light, she's shocked to see that Anton Baldwin hides a terrible scar--just like the phantom she created every night at the theater.
Buy Now